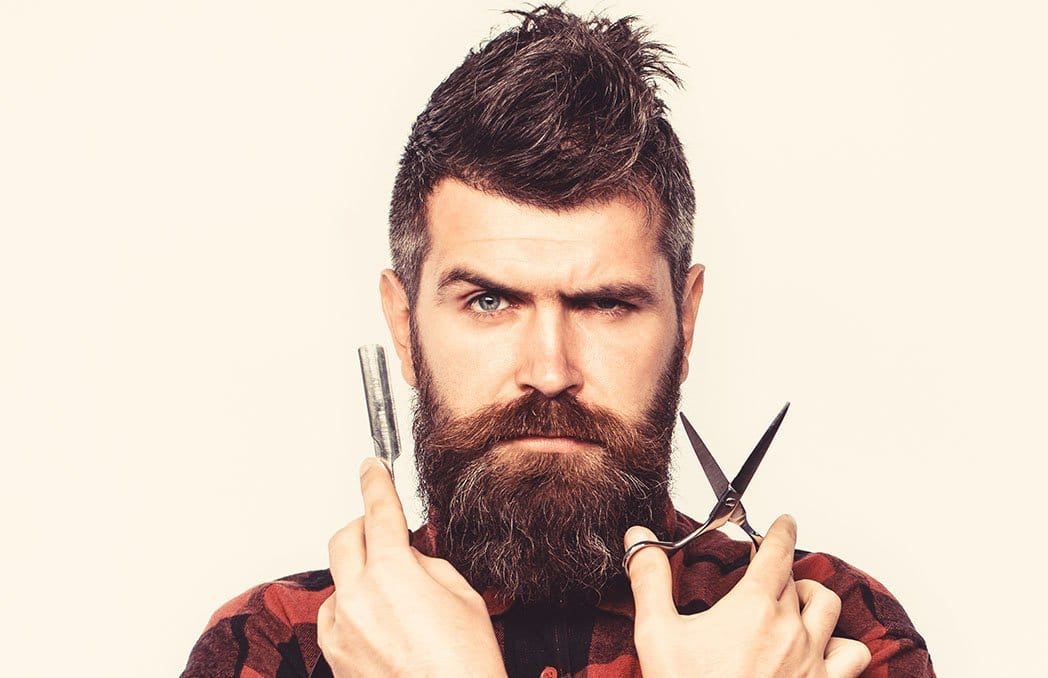 WHAT MEN WANT TO KNOW ABOUT GROOMING
The Team at money.co.uk analysed Google search data to reveal what's really on the minds of men when it comes to skincare and grooming.
Top 10 most searched for male grooming questions
It seems the trend for facial hair is leaving some men searching for answers as our research revealed the most popular grooming question for men this year was; 'how to grow a beard'. With over 96,000 searches this query has increased by almost half when compared to 2019. And it looks like the love of facial fuzz is here to stay, with a further two beard related queries also making the top ten.
While previous generations might have considered a bar of soap and a quick rinse as skincare, the modern man has a much more complex routine. In fact, men spend on average up to £20 a month on grooming products . So, it's no wonder queries around male skincare were some of the biggest climbers in the top 10, with an increase of 175% for the term 'men skincare' and 86% for 'best moisturiser for men'.
Other popular searches include 'makeup for men', up 86% and 'how to make male hair grow faster' which saw an increase of 83% from 2019.
The male fragrance market value may have dipped slightly in 2019 to £86.4 million, but even with a 0% increase in searches, the query was still Googled over 43,000 times placing it seventh in the top ten.

Male grooming questions with the biggest increase in 2020
An analysis of the top 5,300 Google searches also revealed the questions with the biggest increases over the last 12 months.
With men around the country forced to become their own barbers during lockdown, it's perhaps unsurprising that the search with the biggest increase was 'best beard trimmer to cut hair', which received over 12,000 searches, a massive 5,233% increase on last year.
With barbers closed for a considerable amount of time in 2020, searches for 'best hair and beard trimmers' also saw an increase of 511% during the same time period.
Perhaps a search made by both men and their partners, 'how fast does male hair grow' came in second, with a whopping increase of 529% – dodgy lockdown haircut anyone?
With a nod towards the predicted trend of top to toe male grooming, 'how to shave down there' also appeared in the top five, with a 230% rise in searches compared to 2019.
Men were clearly looking to experiment with their hair and facial hair this year, with questions on both shaving and growing beards longer making the top 10, as well as 'how long does it take to grow a man bun' and 'how to grow hair out long'.
The top five lockdown influenced searches
Trend influenced searches
Whilst 2020 has seen plenty of unpredictable searches and trends, there are certain predictions the experts seem to have got spot on.
As predicted by publications including the Evening Standard and Luxury Lifestyle Magazine, searches around makeup for men have risen dramatically in 2020, with 'men's makeup brands' seeing an increase of 250% and more specific questions around eye makeup for men growing by 55%.
The experts at Fashion Beans also predicted the growing trend for a sustainable grooming routine, highlighting brands such as Bulldog who won recognition for their sustainable practices in 2018. This has led to a considerable rise in searches for Bulldog products this year, with queries including 'bulldog men's skincare' and 'bulldog men's products' rising by 125% and 120% respectively.
Finally, one predicted trend, which we'd perhaps rather leave in the 80s and 90s, is the return of the infamous eyebrow slit. The Trend Spotter forecast its return at the beginning of the year and search data suggests they may have been right, with searches for 'how to do eyebrow slits' rising by a huge 324% this year.
We caught up with self-confessed skincare junkie Skincare Shaun to get his thoughts on the biggest male grooming searches of the year
Over the past year, barriers have really been broken down and men looking after themselves is now the norm!

"The increase in men searching for advice on how to grow their beard or cut their own hair is great to see, and following on from this, there'll naturally be a further rise in beard care, as men start realising the importance of neatening it up and taming the mane.

"Even with the rise in skincare and makeup for men, looking presentable is no longer something you do occasionally, and it's a real positive to see more men looking to practice self-care.

"I feel as though this is only the beginning of a male self-care revolution, and over the next year we'll see it embraced even more."