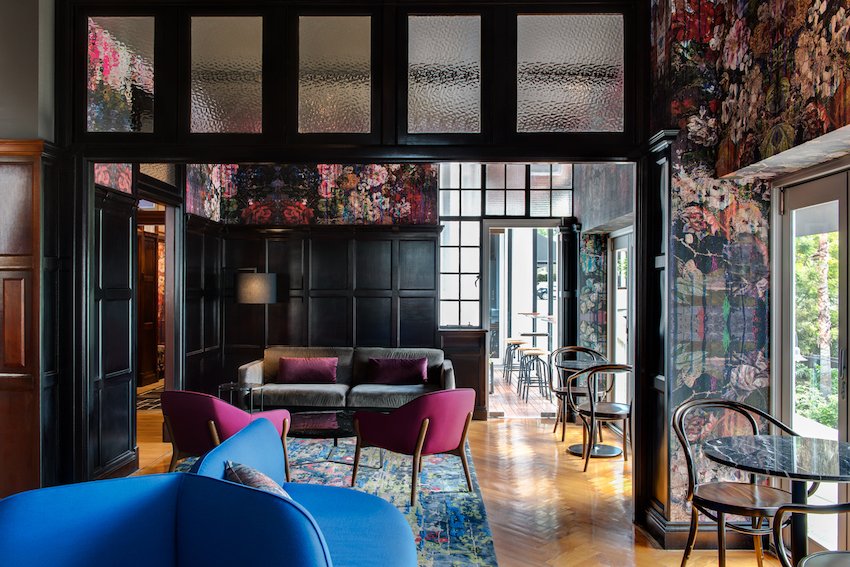 The Inchcolm by Ovolo – A Hidden Gem in Brisbane City
Travelling to Brisbane and looking for somewhere a bit different to rest your head? The boutique Inchcolm by Ovolo takes you back in time offering a five star experience in the heart of Brisbane city.
Just a short 2-minute walk from Brisbane's Central Business district is a hidden little hotel gem. Step off the busy corner on Wickham Terrace and into the lobby of The Inchcolm By Ovolo and you'll be transported to a place in time. A time when movies sirens wore fur and made smoking look elegant and men were clean-shaven with shiny Brylcreem hair.  
A long polished wooden bench with a mirrored bar behind and coffee machine at front, serves as a welcome reception. Neo-Georgian sculptures and a decorative archway steer you towards a comfy lounge, complete with open fireplace and plush chesterfields. A dry Martini please!
Once a private residence and medical practice, the building was first constructed in the 1930's, with this being the foundation to drive the artistic concept behind the hotel. Think Gertrude Stein's Paris salon, where Hemingway, Fitzgerald, Picasso and Matisse would comfortably rub shoulders while sharing trailblazing ideas and indulging in gourmet food and wine. 
The interiors are breathtakingly eclectic. The moodily-lit corridors feature an amazing collection of contemporary artworks, including photos by world-renowned filmmaker and photographer Enrique Guttenberg. The design is replete with geometric shapes and intricate features – a shame these intricacies are now lost to minimalism. Retro, metro and oh so chic.
The larger-than-usual rooms feature handmade wallpaper and are devoid of the 'usual cookie-cutter, personality-lacking' style of most city hotels. Each room is a different size, and all have unique design themes, yet with the same 20th century appeal. For a moment I had of glimpse of the world of Greta Garbo! 
The king-sized bed is comfortable, making that journey to dreamland smooth – the bedside Negroni Kit may have helped. Each suite is equipped with a workstation, a docking station, and a Nespresso machine. Boxes. Ticked.
The AppleTV and iPad allows guests to send a direct request to the concierge, while the free and fast Wi-Fi allows you to surf the net or binge on Netflix. There was also a personalised Spotify playlist ready to bless. It's these small details that leave a big service-orientated impact. A free mini-bar filled with quality beverages and snacks, and yoga mat for your use during your stay.
At the press of a bedside button, the curtains open and close, with the double-glazed windows keeping the street noise from filtering the room. The bathrooms are also oversized with both a bathtub and large walk-in shower. The bath salts were enough to coerce me into the tub and sink further into the glamorous world of yesteryear.
The intimate restaurant, Salon de Co bar, is located at the back of the building. It's a cosy art-deco space to enjoy breakfast or dinner – 7 days a week. The menu is spearheaded by newcomer head chef Andy Ashby and Ovolo Hotels' creative culinary partner, Ian Curley.
The a la carte menu features mouth-watering dishes: turnip puree, orange beuree Blanc, salted shrimp, barramundi with broccolini and many more. A snack menu that features an array of charcuterie, cheese and chickpea crackers sprinkled with celeriac and coriander is also available on demand. You can opt for the continental and exotic dishes or go simple with bacon and eggs. There are delicious vegetarian and non-vegetarian friendly dishes. 
Wooden parquetry flooring, brass archways and heritage wall panelling featuring vibrant experimental and aspirational artwork continue the hotel's artiste theme. The staff are all friendly and enthusiastic, willing to help guide your choice when there are too many good options to choose from. Like the hotel, the food is 5-star.
While the city is in close proximity, I feel a world away!